Who is online?
In total there is 1 user online :: 0 Registered, 0 Hidden and 1 Guest

None

Most users ever online was 23 on Thu Mar 28, 2013 12:06 am

| | |
| --- | --- |
| Senju Naoko [COMPLETE] | |

Author
Message
Senju Naoko
Kusaikage




Chakra Limit

: 300


Posts

: 1


Brofist

: 0



Subject: Senju Naoko [COMPLETE] Sun Mar 10, 2013 6:07 pm

---

Senju Naoko

B a s i c:

Age:

30

Gender:

Female

Village/Affiliation:

Honōgakure no Sato

Rank: KageClan:

Senju

Chakra Nature: Earth
Water
Wood

P h y s i c a l A t t r i b u t e s:

Height:

6'1

Weight:

76kg

Eye Color:

Blue

Hair Color:

Pink

---

Hair Style:

Long

Scars:

None

Tattoos / Marks:

None

Naoko is often a book judged by it's cover. Ever since she was young, she has always been a fair child and when she moved into her teens, she became something of a contest amongst the younger shinobi because of her looks. The is a tall woman, standing roughly six feet and once inch tall, 1.8 meters and her body is toned and athletic weighing in around seventy six kilograms. From years of training to be the perfect shinobi, her body has reaped the rewards.

Something that has been the cause of discussion since she was a child, is that she possesses the hair of the Uzumaki. Something she inherited through her Senju blood as the two clans are distant blood relatives. It is a rare thing for a Senju to be born with Uzumaki hair, and it's only considered to make her beauty even more exotic.

She had bright blue eyes, which sometimes flash when she's angry.s while they stay their normal blue. She comes across as an almost ethereal person. Her movements appear extremely graceful and she tends to take extremely long and flowing strides. She is not the most humble dresser and her outfits can be quite revealing. Her casual outfit consist of a tan, turtle neck sleeveless vest with a second, high collared white and light brown vest over top and a short brown skirt.

She is considered something of an exotic beauty to many and has become respected because of it. It is said during battle that she appears like a goddess, striding across the battlefield and striking down her enemies with a grace beyond this world.

This is her kage outfit she wears throughout the village daily.

D e t a i l s:

Personality:

Goals:

Fears:

History (Optional):

S t a t u s:

Taijutsu: 4Speed: 9Ninjutsu: 6Genjutsu: 2Perception: 3

O t h e r:

Password Found?:

Narora is epic, and I will follow all of these rules lest he smite me with his epic smiting powers.

Other:

None

Narora Uchiha
Jounin




Chakra Limit

: 200


Posts

: 247


Brofist

: 0


Age

: 24

Shinobi Profile
Team Members:
List of Weapons:
List of Jutsu:


Subject: Re: Senju Naoko [COMPLETE] Sun Mar 10, 2013 6:37 pm

---

| | |
| --- | --- |
| Senju Naoko [COMPLETE] | |
Welcome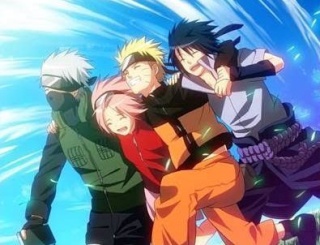 Affiliates
Our Affiliates
Listed On:
Click Daily:
News Channel
L 2 = Language is permitted, but cannot be used to abuse other members, only other member's CHARACTERS.
S 2 = Sexual Acts are permitted, but must be placed within the appropriate area.
V 3 = Violence is permitted, and there are no restrains as to what you can post or say (Within the two above rules).

Well, it's Mid Summer now in Mukougakure, Nayamagakure, and Hanegakure! The sun is just boiling down on the ANBU's backs as they stand guard over the Village. Most Genin are out training with their Sensei though, the hot sun making it seem like it would 'Build Character'.

The Chuunin have it easy, as most are either away on missions where there's a lot more shade, water, or down south where all the snow is. Some are even teaching indoors! Lucky...

Brrr! It's winter down in Arashigakure and Honougakure! This is the time of year when Arashi gets quite a few snowstorms, well, if your below the cloud! Above on the upper platform, there's no snow, but there IS quite a wind chill!!

Down in Honou, because of the proximity of the Volcano, temperatures don't drop too much down here, if any, they only drop by 5oF!
Tweets
Our Facebook Page:

Staffers
Founder:
Admin
Trial Admin
None
Moderators
None
Trial Moderators