Who is online?
In total there is 1 user online :: 0 Registered, 0 Hidden and 1 Guest

None

Most users ever online was 23 on Thu Mar 28, 2013 12:06 am

| | |
| --- | --- |
| Consumed by Boredom | |

Author
Message
Taidana
Academy Student




Chakra Limit

: 100


Posts

: 5


Brofist

: 0


Age

: 23

Shinobi Profile
Team Members:
List of Weapons:
List of Jutsu:


Subject: Consumed by Boredom Tue Feb 12, 2013 12:25 am

---

It was early in the day and surprisingly, the sun was as vibrant as ever. Masato was sitting up in a tree branch, laid against the tree. The leaves of the tree protected him from the suns rays. He wasn't allergic to sunlight or anything crazy like that, but he was most certainly not a big fan of it. He preferred colder, sometimes rainier weather when there wasn't much people out. Also, he wasn't dressed to be out in the sun. He was over dressed. He wore a black shirt, black pants and black sandals. From his ankles to just below his knees, he wore black and white striped leg warmers. On his arms, from his wrist to his elbow, he wore black and white striped arm warmers. The sleeves of his shirt reached from his shoulder to his wrist, but the end of it was obscured by the warmers. His shirt opened a the neck in a v shaped, but it's opening was covered by a white scarf that he was wearing. He was indeed over dressed for the current weather.

He leaned his head back against the tree and sighed. He decided he would rest, he was in no harm after all. The shade made it so that he was only faintly seen. The thing most visible about him was his dark, golden eyes. He began resting, when all of a sudden, he heard a sound not too far off. He didn't think much of it, but still, he became more alert, and acted with caution, after all, it could be a potential threat.

| | |
| --- | --- |
| Consumed by Boredom | |
Welcome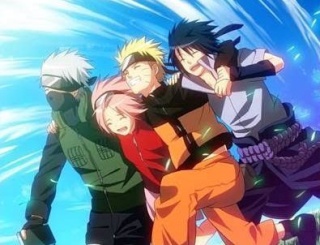 Affiliates
Our Affiliates
Listed On:
Click Daily:
News Channel
L 2 = Language is permitted, but cannot be used to abuse other members, only other member's CHARACTERS.
S 2 = Sexual Acts are permitted, but must be placed within the appropriate area.
V 3 = Violence is permitted, and there are no restrains as to what you can post or say (Within the two above rules).

Well, it's Mid Summer now in Mukougakure, Nayamagakure, and Hanegakure! The sun is just boiling down on the ANBU's backs as they stand guard over the Village. Most Genin are out training with their Sensei though, the hot sun making it seem like it would 'Build Character'.

The Chuunin have it easy, as most are either away on missions where there's a lot more shade, water, or down south where all the snow is. Some are even teaching indoors! Lucky...

Brrr! It's winter down in Arashigakure and Honougakure! This is the time of year when Arashi gets quite a few snowstorms, well, if your below the cloud! Above on the upper platform, there's no snow, but there IS quite a wind chill!!

Down in Honou, because of the proximity of the Volcano, temperatures don't drop too much down here, if any, they only drop by 5oF!
Tweets
Our Facebook Page:

Staffers
Founder:
Admin
Trial Admin
None
Moderators
None
Trial Moderators